Malcom in the Middle actor Frankie Muniz has recently revealed he can't remember much about the series, due to suffering from mini-strokes, which have seriously impacted his memory.
The 31-year-old actor revealed he has had a serious amount of mini-strokes which have lead to his condition. Rest assured – mini strokes only occur in 10% of under 45's and isn't very common at all for this age range.
Suffering repeated strokes can alter blood flow in the brain and cause serious symptoms such as memory loss.
Frankie appeared in the sitcom between 2000-2006 and first suffered his first mini-stroke back in 2012 at the age of 26.
Before taking part in the USA's Dancing With the Stars, he spoke to The Daily Mail about his condition:
"I've never been to the doctor and been like, you know, 'Why don't I have a memory?' To be honest, I've never really talked about it."
"It makes me a little sad. Things pop back into my mind that I should have remembered," he said.
He even revealed that his girlfriend Paige jots down memories in a journal, so he can look back and try and remember happy times:
"I love to be able to look back," he said. "It makes make a little sad that it doesn't just pop back into my mind. Like, I should have remembered going to Australia. That's something that people remember."
Frankie claims he has learned to live with his condition by putting a few strategies in place to still make the most of life:
"My most memorable year is 2017, because I learned to live in the present.
"I'm happy with my acting career, I'm happy the decision I made to drive race cars and to focus on music. Even if I don't remember it all, I'm happy.'"
Mini-strokes should last a few minutes and luckily won't cause any permanent damage to neurological functions:
'They don't leave any damage to the brain on imaging or lasting effects" Dr Schwamm explained.
After performing his dance routine on Dancing With the Stars, host Tom Bergeron asked Frankie:
"You seem to be almost at peace with the fact that you're having memory issues – is that accurate or is that just acting?'
However, Frankie replied: "No, 100 percent. I mean, it's not something that I necessarily think of. I'm just me, so I only know my brain and my life.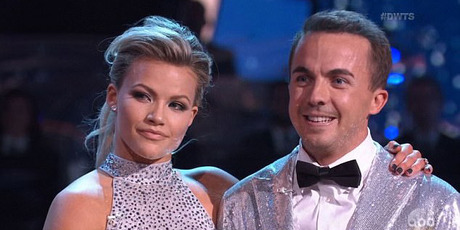 "But it's weird when I talk to family or friends or people who I've worked with and they bring up things that I don't quite grasp unless I see pictures and videos and stuff."
In a previous interview, the Frankie stated that in spite of the condition, he is "just happy to be alive".