National treasure Sir David Jason has said that he believes the show that helped make him one of the most recognisable and best-loved actors in the history of British TV, Only Fools and Horses, is cursed.
He believes that the show has a curse of death hanging over it, due to how many of his co-stars and crewmembers have died too young over the years.
The show first aired in 1981, and starred David Jason as Del Boy Trotter, Nicholas Lyndhurst as Rodney Trotter and Lennard Pierce as their daft old granddad. However, tragedy would strike just 23 episodes into the show, as Lennard Pearce suddenly and tragically died as a result of a heart attack at the age of just 69.
Pearce, who was predominantly a theatre actor as well as being a member of the Royal Shakespeare Company, had been in poor health for some time. In 1980, while working on a play at the Bristol Old Vic, he began losing his balance and falling asleep. After visiting the doctor, he was diagnosed with critical hypertension and was given seven different times of tablets that he had to take for the rest of his life.
His health improved somewhat over the course of his time with Only Fools, but in December 1984, while production of the fourth series of the show was under way, he suffered a heart attack and was taken into hospital. As he recuperated, his health began to improve, and he was visited by the show's writer, John Sullivan – another untimely death – and reassured that his role in the show would be waiting for him when he recovered. Sadly, however, that was never to be, and he died instantly as a result of a second heart attack.
Production for the episode "Hole in One" was underway when Pearce died, with screenshots still in existence on the internet of Granddad sitting in the wheelchair that would later be re-shot with Buster Merryfield, who played his estranged brother, Uncle Albert.
The episode was pushed back in the running and two episodes surrounding Granddad's ill-health and death were written to start the series.
That was the first time that the show had had a high-profile death, but sadly it wasn't to be the last. Both Buster Merryfield and Ken MacDonald died after the airing of what was originally intended to be the final episode of the show during the Christmas period of 1996, when the Trotter brothers finally became millionaires. Buster Merryfield, who only turned professional as an actor after retiring from a career as a bank manager, prided himself on his strict fitness regime of daily press-ups and swimming. Moreover, unlike his on-screen character, who enjoyed a snifter of rum (just to keep the cold out, mind) and his pipe, Buster was tee-total and a non-smoker.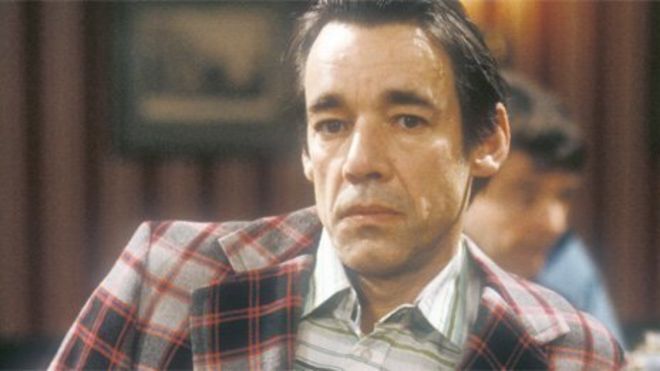 Merryfield was keenly involved in amateur dramatics before his retirement, and once his 40 year career working for the Westminster Bank (only to be interrupted by his war service, where because of his impressive physique, he was a physical trainer and a jungle warfare instructor) had ended when he was 57, he took up acting professionally. Seven years later in 1985, after some theatre work and a few small TV roles, he was cast in his most memorable role, Uncle Albert.
Coincidently, he and his on-screen brother Lennard Pearce had performed together in March of 1984 in two episodes of Shroud for a Nightingale.
Despite a life-time of dedicated physical fitness, he tragically died as a result of a brain tumour in 1999 and just 78 years old.
Ken MacDonald, who played the Nag's Head's long-suffering landlord, also passed away far too early, as he died suddenly whilst on holiday with his family in Hawaii in August of 2001 as a result of a heart attack. He died before production on the newly returning Only Fools and Horses began. Of his death, Sir David said: "It is a terrible shock.
"It is like losing a member of the family, because he was one of the warmest, kindest people that I have had the good fortune to meet in my career."
Sir David Jason himself compared Only Fools and Horses supposed death curse with that of the cast of Dad's Army shortly after the show finished in 1977. Writing in his book, Sir David said: "As well as John Sullivan, the genius who wrote the show and was the greatest writer I ever knew, who died in 2011, and the properly clever Roger Lloyd Pack (Trigger), who died in 2014, dear old Buster Merryfield, our Uncle Albert, had died in 1999.
"And Kenneth MacDonald, that sweet, kind man who was Mike, the landlord of the Nag's Head, died of a heart attack on holiday with his family in 2001 at the unfairly premature age of 50.
"Plus we had lost the magnificent Lennard Pearce (Granddad) merely 23 episodes into the show.
"People talk about the curse of Dad's Army, but surely the less noticed 'curse of Only Fools' runs it a close second."
Such was the melancholy that followed the show for some as a result of so many deaths, Sir David even revealed that he and his co-star, Nicholas Lyndhurst, don't even like to talk about the show any more, because of the sadness attached to the death of their friends and colleagues.
But the untimely deaths, sadly, did not stop there. Years after the show came to an end, a wave of tragedy struck again, as John Sullivan, the show's mastermind and sole writer, died suddenly at the age of just 64 after a short battle with viral pneumonia.
John Sullivan is credited by many who worked on the show as being one of the comedy finest writers of his generation. But it could be argued that such was his deftness and skill at seamlessly blending comedy and tragedy, in the old Greek tradition, there is a case to be made that John Sullivan was one of the finest writers of his generation, full stop.
And like all the great writers, John Sullivan's secret was not a secret at all, but a golden rule by which all the great authors and screenwriters abide, which is to simply write about what you know. He was a Londoner through and through, and even described himself as being a bit like Rodney when he was a teenager too, as he too was a starry eyed dreamer. Sullivan also said that Del Boy was more of an amalgamation of many characters he encountered growing up in South London.
And then, of course, there was Rodger Lloyd Pack, the secret thespian of the group, who played his role of Trigger with such dedication, such aplomb, and such artistry, that Nicholas Lyndhurst recently said in the recent Gold documentary The Story of Only Fools and Horses that Rodger Lloyd Pack's performance as Trigger on the show was one of the best he'd ever seen.
He was the most regular of the show's supporting characters, appearing in the first ever episode and the last ever episode and almost every episode in between, and gained a huge amount of popularity, despite only being a minor character.
Rodger Lloyd Pack also had the distinction of starring in two of the very best sitcoms that Britain has ever produced, Only Fools and Horses and the Vicar of Dibley, which ranked 1st and 3rd respectively on the nation-wide vote to find Britain's Best Sitcom.
All in all, five people most closley related to the show have met tragic early fates over the years, and though that may leave a cloud of sadness lingering over the show, let us not forget the laughs that Only Fools has brought us over the years, and celebrate the comedic talent that made the show the gold-standard, even to this day almost 40 years on, for any British comedy programme.